Prague Youth Philharmonic
Prague Youth Philharmonic (Filharmonie mladych) was founded in 1995 under patronage of Art School Na Popelce in Prague. The orchestra performed in many public concerts in the most attractive halls in the Czech Republic like the Municipal House in Prague, Spanish Hall of the Prague Castle or the Dvorak's Hall of Rudolfinum.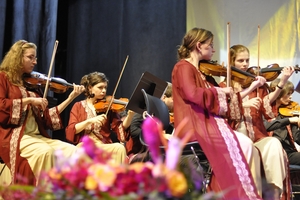 The orchestra cooperates with prestigious ensembles both Czech and foreign (Neyer Chor Dresden, Wadachi Choir Japan, Prague Philharmonic Choir). In 2009 the orchestra cooperated with the Czech Philharmonic Orchestra, performing the 2nd Rachmaninoff's piano concerto. Its repertoire consists of masterpieces of classical music including Dvorak's "New World" Symphony as well as popular movie music.
Art School Na Popelce in Prague, Czech Republic has 700 pupils, which can choose from four different specializations – music, dance, drama and arts. Its music department offers a variety of subjects to study: piano, violin, viola, violoncello, guitar, recorder, flute, clarinet, bassoon, oboe, trumpet, percussion, voice and song interpretation, etc. Pupils profile themselves like soloists together with participation in chamber music represented by string ensemble, brass band, chamber orchestra or symphony orchestra - Prague Youth Philharmonic. Voice department's students join children's choir or opera ensemble.
Art School Na Popelce regularly cooperates with educational and artistic institutions abroad. Its ensembles and study groups recently visited Great Britain, Turkey, Austria, Germany, Nederland, Romania, and Croatia. Pupils perform in frequent concerts and shows, bringing awards from both national and international competitions.
Contact: Vojtěch Fröhlich (deputy headmaster, Na Popelce School of Arts)
+420 734 445 326, zastupce(at)zusnapopelce.cz